---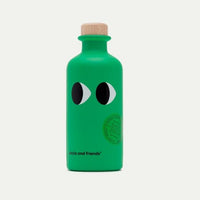 Extra virgin olive oil with
Basil
A gourmet extra virgin olive oil from the island of Crete, cold pressed and flavored with basil for a true taste of the Mediterranean! 
Drizzle liberally on salads, cooked greens, even meats, and bring an enticing hint of the Mediterranean to your table.
Packaging: 6.8oz/200ml glass bottle
This, is a story about YIAYIA. A Greek granny together with her animal friends spreads the message of family values through food related stories and experiences conceptualized with a fresh perspective and a sense of humour.
"She rises while it is yet night. Always before the sun. One could say it is she Who awakens the sun. And she has work to do (She always has work). To tend to the field, to take care of the animals. To clean, to wash, to cook. To shape with her hands common mater Into taste, smell, softness, song and beauty. She knows how to heal, to explain, to predict. She knows how to grow children into Men and Women. She is a witch. She listens to the land. She speaks to the plants, animals and birds. She can read the stars and the moon, The clouds and the wind. No ordinary person Can master or perform Half of the things she does. She can. And she is really good. She has many names: Mother, Grandma, Nana, Kyra. But she prefers the one By which the children call her.